Celebrating a GCSE day like no other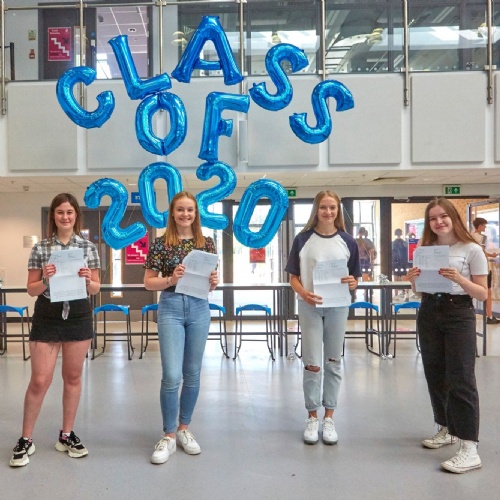 On a GCSE Results Day like no other, students and staff came together to celebrate all of the hard work that has led to today's achievements. Despite the upheaval of the last few months, there were plenty of smiles as students received the results so important to their future progression. An overriding emotion was relief after all the uncertainty.
Lucy said 'I had butterflies and now it's all over I am just so relieved.' Rebecca, who like many others achieved amazing results, said 'If we'd have done exams we'd have had some sort of certainty, you'd know that you'd worked hard and if you'd done well and it's been kind of up in the air.' Amelia agreed saying 'I am relieved! I was so nervous this morning and got up really early, I just couldn't sleep. I am staying into the sixth form and I am going to study History, English Literature and Biology.' Alex said 'I was a bit upset at first this year when the exams were cancelled because of all the effort I'd put in but I am pleased with my results and I am staying in the sixth form.' High-achieving Lewis added 'I think it would have been good to do the exams and see what you actually would have got, but I can't complain! I am staying for sixth form to study Geography, Law and English Literature.' Oliver summed up his feelings: 'More than pleased with my results! I am definitely staying here in the sixth form – you'd have to tie me up to keep me away!' Congratulations to all of our students. We look forward to continuing the journey with many of you in September!