Ethos and Values
Our Mission
We aim to enable every young person to fulfil their academic potential, providing the foundations for them to excel in all that they do and to leave prepared to achieve all their ambitions.
Our Values
Excellence
We aim to inspire - to be the best we can be
Endeavour
We promote qualities of determination and courage
Respect
We are firm advocates of friendship and equality

Our Goals
Create an inclusive, caring environment that enables every student to enjoy learning and achieve their academic potential.
Prepare responsible young adults who value learning, helping them to make a positive contribution to society.
Develop self-confidence, motivation, aspiration and commitment in every student, celebrating all achievements.
Respect every young person's right to learn while encouraging them to stay safe, be healthy and enjoy equal opportunities.
Provide all students with a broad and balanced curriculum, enabling them to develop and achieve economic well-being.
The School logo
At Wolfreton we are all committed to our quest for excellence. The school logo represents this quest as shown by the "double-tick " and the motto Haulte Emprise, translated as High Endeavour, first used by the local priory in 1324 and leading to the local name "Haltemprice".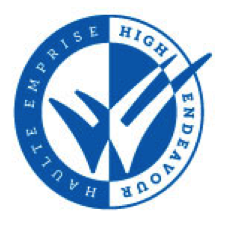 Policy Into Practice
Through our school mission, values and goals, and supported by state of the art facilities, our whole school community is well founded to continue to move forward, building on the many achievements we have already secured, to excel in the future. The achievement of our students is strongly influenced by our values and goals, which underpin our school culture. The sense of belonging is based on all members of the school recognising and responding to these values and goals, and internalising and valuing our culture and traditions. In doing so, a sense of belonging and pride can continue to grow, ensuring a positive and successful school.
Belonging to Wolfreton School and Sixth Form College means recognising and responding to these goals and values, it means recognising that we are all part of Wolfreton. We develop these values through everything we do. These values and goals are the basis of our House System and the reason students chose the people they did to name our school Houses after. They are also reflected through our Code of Conduct and Prepared to Learn Codes.