A level success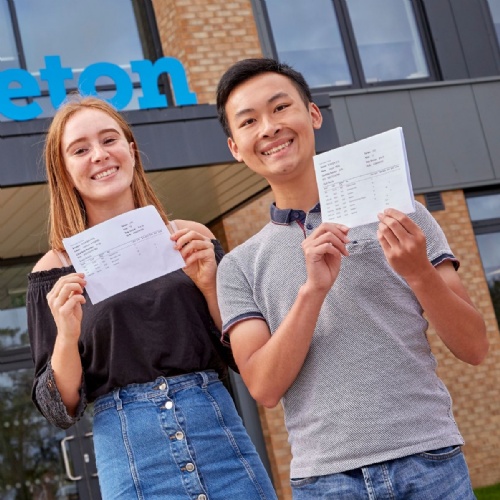 Sixth form students are celebrating their success after picking up their results this morning. Headteacher Miss Kukuc said 'Today we are delighted to be celebrating with our students as they have received their results and confirmed their next steps. It has been a pleasure for staff to again share in so many individual successes and the realisation of personal ambitions and goals. This of course comes after many months and indeed years of effort and commitment by both students and staff, supported of course by their families. I congratulate all on their hard work and resilience and positivity in navigating the demands of these qualifications.
Results day is always about the young people and about them being able to move on to chosen destinations. Many have now decided to move on to university, with Leeds, Manchester, Oxford, Durham and Hull being just some of the institutions set to welcome our students on their next ventures. Others are celebrating as they prepare to begin coveted apprenticeships with companies including BAE and Ineos, or as they embark on planned gap years with travel and other experiences on the horizon. We wish each and every one of them success and happiness as they move forward and we look forward to hearing their successes in the years to come.'
Amongst the many individual successes were Hannah Kynman who, after achieving 4 A*s will be taking up a place at Oxford to study Biochemistry. She said 'I will be studying an integrated Masters over four years. I only decided to apply to Oxbridge a couple of weeks before the deadline. I'm so glad my hard work paid off as I put everything into it that I could.' Jiayuan Feng achieved the same amazing feat with 4 A*s leading to a place to study Physics at Manchester. He said 'Physics is not the easiest of subjects and this is pretty much as good as it gets!' Other notable success stories include George Gohl who will be starting a Software Degree Apprenticeship at BAE Systems. He said 'I looked at lots of different options both university and apprenticeships having done my work experience in Year 10 with BAE Systems. I put a lot of work into my revision and it's nice it's paid off.' Alice Cannon is delighted that she will be studying Biomedical Science at Hull. She said 'I put so much work into my Chemistry in particular, I didn't want to let myself down or make silly mistakes.' Congratulations to all of our students and lots of luck as you take your next steps.