Food tasting by Student Council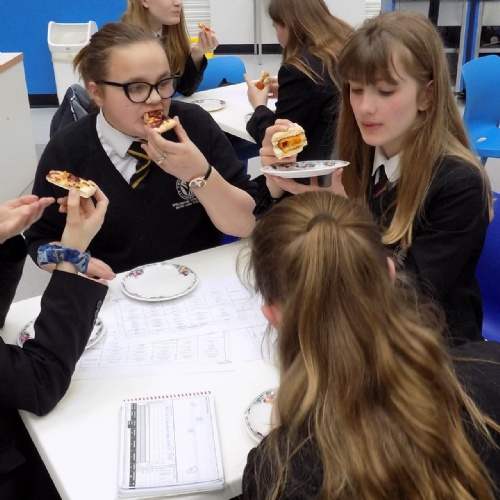 Having put 'puddings, hot or not?' to the vote, students today moved onto savoury choices. Previously members of the student council had canvassed opinion about Wolfreton's favourite pudding, with the three top pudding and custard choices becoming a fixed part of the menu with specials added to the mix. Today students took part in a taste test, with katsu sustainable cod fish fingers being sampled with either a bread cake or wrap alternative, two new pizza varieties as well as a vegan special of falafel with houmous, lettuce and chilli sauce in a wrap.
Chartwells Catering Manager Ruth Light said 'We feel our students should have input into their menu choices. Young people are very food aware so we are offering vegan options and alternatives such as bread cakes or wraps for our sustainable fish finger sandwiches. Katsu curry sauce adds an extra twist.'
Students enjoyed tried trying the variety on offer. Alicia said 'I tried the fishfinger in bread cake and the BBQ chicken pizza.' Sophie said ' I went for the wrap option as I eat a lot of wraps and having this variety would encourage me to try more of the options here at school.' Kisstini said 'I tried the vegan falafel option. I like the Dr Who option of fish fingers and custard.' It's unlikely that option will be making it onto any menus any time soon!