Alicante 2016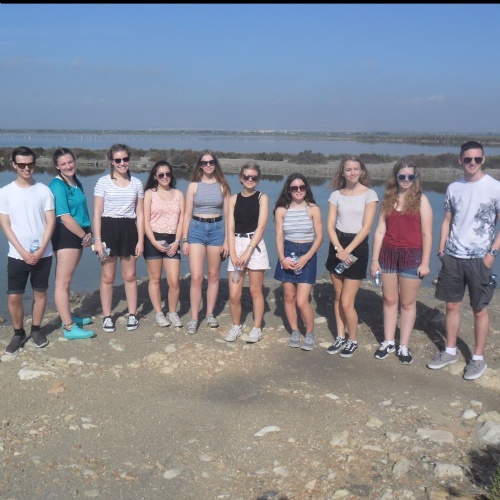 Year 13 student Mathew Jackson reports on his work experience trip to Alicante:
Arriving in Alicante after an early morning start (02:30 am) to get to Leeds Bradford Airport, we met our tour guide Amelia who would only speak to us in Spanish. Once we got to our hotel and unpacked, our intense fortnight had started. During our time over the first few days, we had tours around Alicante, the cathedral and the town hall, had Spanish lessons to help prepare us for our work, went to the beach and had a salsa dancing class with our instructor Emy (Baila con Emy). During our time in Alicante, we had interesting experiences with food, trying everything like Tapas, calamari, patatas bravas, jamon serrano, flan, assorted ice cream flavours and paella and tortilla (which we made ourselves at one point in a cooking class) with some 'normal' food as well, like pizza and spaghetti bolognese.
The main part of our trip was the work experience which happened every weekday morning from 10:00-13:30. For me, this varied from printing and stapling letters, sorting out bank payments and working on Microsoft Excel, to speaking to Spanish classes, answering questions about my life and teaching English to Spanish students in Spanish as well as helping out students and talking to the receptionist, Maribel. In the afternoons, we had visits to places such as: Las Cuevas de Canelobre (caves), a Spanish market and el Castillo de Santa Barbara (castle). We also visited museums of flamencos (flamingos), turron (a spanish sweet), fábrica de chocolate (chocolate factory), ocean race museum and tour of a boat, plaza de toros (bull fighting ring) and a ceramics class where we made and painted mugs. On one of the nights we participated in the celebrations for Halloween and made skull masks from Día de los Muertos (Day of the Dead) as costumes and went trick or treating (Truco o Trato). Other full day excursions on the weekends were to a town called Elche and a medieval market, Villajoyosa, a beach near Benidorm and MundoMar, an animal park where we had pictures with lemurs, had parrots fly just over our heads and saw an amazing dolphin performance. The two weeks were full of activities whether it was at work, visiting an attraction or relaxing on the beach.
On our first day, our Spanish was somewhat mediocre but by the end of our constant Spanish speaking and listening, we had improved a lot to a great standard where we are able to now have full Spanish conversations with each other, teachers and Spanish people. On the final night, we relaxed, went out for tea and went to a karaoke place to have fun. The following day we had to depart from Alicante, and say goodbye to Amelia in the airport before going through airport security, where we had a random search carried out on some of us before the flight, and arriving back home at about 8:30pm.
Speaking on the behalf of all the students that attended the trip, we all had an amazing time and thoroughly enjoyed the experience which we will never forget and we'd like to thank Miss Atkinson, Mr Oliver, Amelia and Juliet and Andrew (who got the funding from the EU for the trip).