Sixth form students visit Japan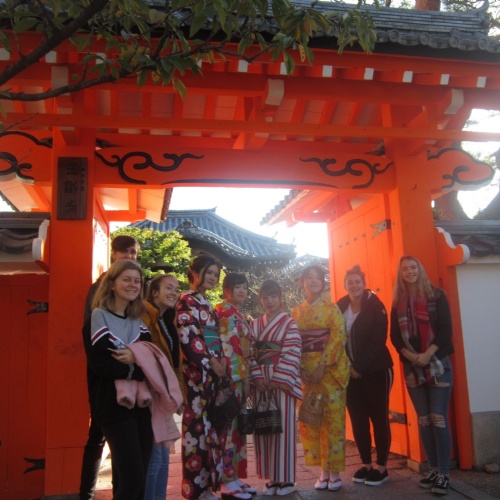 Sixth form Japanese language students have recently returned from a ten night trip to Japan. The lucky students, who are in their last year studying A level Japanese, were able to travel throughout the country, arriving into Kansai Airport, moving onto Kyoto, then Kagoshima and Tokyo before flying back via Schiphol.
Having flown into Kansai students took the train to the city of Kyoto for two days of sightseeing. The next stop was a train back to Kansai airport to take an internal flight to Kagoshima. Three full days were spent in Kagoshima, joining in curriculum lessons and extra-curricular activities with students from Kagoshima High School, with whom Wolfreton has links.
Emma said 'My personal highlight of the trip was the visit to Kagoshima High School, because we were able to see first-hand the differences between our school system and Japan's. What I found most interesting was how long their school day was – the students wanting to go to the most prestigious universities had about 8-9 hours of compulsory lessons a day in addition to attending a variety of clubs (including the Green Tea Club, whose members conducted a wonderful ceremony for us). Also, I loved how friendly and enthusiastic all of the students and teachers were. They really accommodated us, which was very useful as it enabled us to improve our speaking skills, something I will take forward, hopefully on future visits to Japan. Another aspect that I thoroughly enjoyed was the Japanese food, especially the ramen we ate in Kagoshima (as we went to a famous traditional restaurant on my 18th birthday) and the sushi. Trying all of the different varieties that we could not eat in England was fantastic. Overall, the trip was an unmatchable experience for the amount we learned, saw, ate and the people we met. It was unbelievable.'
Our students were then able to take part in Ohara Matsuri, a dance festival held at Tenmonkan in downtown Kagoshima, which is attended by about 20,000 people. It is the largest festival of its kind in southern Kyushu. It features dancing in unison to traditional music such as the Ohara-bushi (a popular Kagoshima tune). The participants come dressed in traditional Yukata (summer style Kimono), Happi (festive overcoat) and some even wear home-made costumes. Spontaneous participation is also greatly encouraged!
Neve said 'The most memorable part of the trip for me was taking part in Ohara Matsuri which is an annual festival in Kagoshima. This was one of my favourite days as we don't have this kind of festival in England and it gave us an insight into Japanese culture. We took part in three traditional dances with teachers and students from Kagoshima High School and also got interviewed for Japanese TV.'
After the festival, students visited historical museums and sites with Kagoshima High School staff and students. They then flew into Tokyo for sightseeing in Harajuku, Shibuya and Odaiba. This included a visit to The National Museum of Emerging Science and Innovation, simply known as the Miraikan which is a museum created by Japan's Science and Technology Agency. The next day the students split in two groups. Some continued sightseeing in Ginza, including visiting places which feature in an A2 literature piece. Two of the students who are considering careers in Law had the opportunity of work experience in Tokyo.
Sam said 'The work experience that Jess and I completed at the Kasuga Law Office was invaluable. Over the two days we were able to see many aspects of legal work in Japan, such as meetings with clients and other lawyers and going to Tokyo District Court. Having studied A level Law, I recognised that Japanese Law, although not identical to UK Law, bears many similarities to our law, and I was able to see some of the practical applications of legal procedures I had studied in theory. We also socialised with the lawyers and learned about their experience with the law. Overall the experience was very informative and helpful and will stay with me throughout my legal career.'
Mia concluded 'Japan was thrilling, absolutely amazing. One of the best experiences throughout the entire journey was visiting the vibrant yet angelic streets of modern Tokyo but also the traditional and authentic shrines. The different way of life and culture really opened my eyes as to how much completing my degree, spending a year abroad in Japan and eventually spending time out there would mean to me. This trip solidified the decision for me that doing Japanese and enjoying the culture is what I want to do for the rest of my life. A great experience which will now help me throughout my A level studies and eventually into my degree.'